From the President's Desk: Reflecting On 2022 & What We're Building in 2023
December 29, 2022
Dear friends, colleagues, and neighbors:
It's that time of year when so many of us pause to take stock of the months that have passed in the rear-view mirror while looking ahead at the year that's quickly approaching. So, I thank you for allowing me a moment to do just that.
2022. A Year of Challenges & Wins
The past year featured enough housing market headlines to fill a couple of years — especially as we all worked to overcome the challenges posed by supply shortages. And that's exactly what we did. Our StyleCraft team didn't shrink in the face of adversity. We actually grew. We grew into the City of Richmond, planting our flag in Scott's Addition with our new condo community, The Outpost at Brewers Row.
We also grew new sections of popular communities at Greenwich Walk Townhomes, The Townes at Iron Mill, and The Overlook at Hancock Village. With all of this expansion, of course, came the opportunity to grow the family of StyleCraft homeowners, welcoming them into homes and communities designed to Live Up for years to come. Welcome home!
Nailing Milestones Together
With all this building and growth came a significant milestone we've been eyeing for some time: welcoming our 3,000th homeowner. Sure, it's a big round number, but to us it's so much more. It's all of the milestones that homeowners have shared with family, friends, and neighbors at these homes through the years: births and birthdays, homecomings and anniversaries, as well as holidays and those impromptu occasions that are often the most memorable.

We are grateful for the inspired work of our team, Trade Partners, dedicated team of Preferred Lenders and each StyleCraft homeowner who has chosen to Live Up in our homes.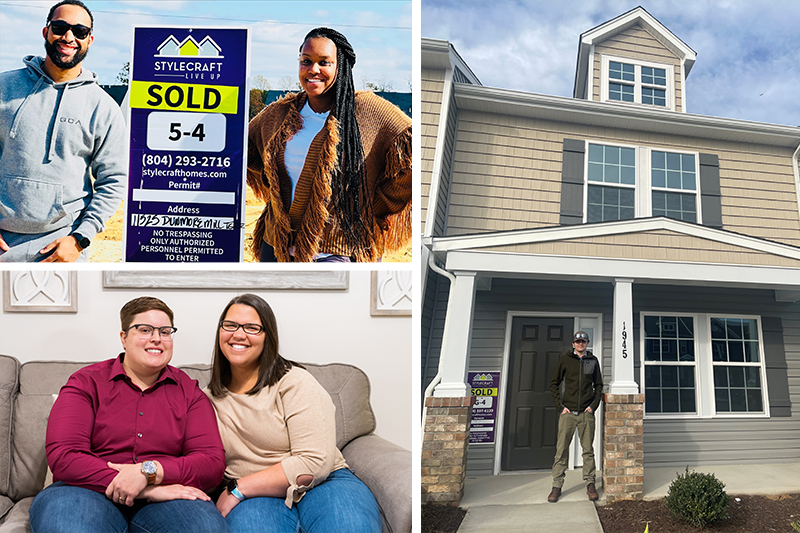 Investing in our Employees
Perhaps one of our most vital accomplishments of the year was growing our StyleCraft team's effectiveness by completing rigorous training to positively impact the customer experience.

Under the expert guidance of the Bell Leadership Institute, our entire StyleCraft team immersed themselves in two days of Advanced Communication training, in addition to Time Management and Personal Productivity training. Through this program, and our continued work with Bell Leadership, our goal is to strengthen our internal team, and in turn, strengthen our relationships with our Trade Partners and vendors — building and refining an exceptional customer experience for all StyleCraft homebuyers and homeowners.
Building on the Success of the Dream Home Giveaway
This year marked the fourth St. Jude Dream Home Giveaway for which StyleCraft has led the charge — and you could say it's our most successful yet. You might think we say every Dream Home is the best one yet, but we actually have some compelling facts and numbers to back up that assertion for this year's giveaway. For starters, this was the first year that we were able to sell Dream Home tickets online, broadening our reach and increasing accessibility for members of the community to participate (and maybe even win!).

With this new feature and the outpouring of support from the Greater Richmond Community, we once again sold out of tickets in advance of the drawing — raising an incredible $1.25 million dollars! This amount exceeded the totals we've raised during prior Dream Home campaigns.

We couldn't do this without the generosity of our community, Trade Partners, and sponsors. Because of this community collaboration, every cent of the money raised goes directly to the children and families at St. Jude Children's Research Hospital. Our community's collective generosity will help save lives in our community and far beyond. (Learn more about the 2022 St. Jude Dream Home Giveaway by visiting HERE.)
A Peek Ahead
We've already begun writing our next chapter of growth. In 2023, we'll build in some of Greater Richmond's most in-demand areas. And that's only part of the story; we'll also be building new sections in our established communities — opening many new doors as we welcome homebuyers to the StyleCraft family.
Here's a closer look:
Mason Yards: We'll be opening sales for our 2-story luxury condos ideally located in Scott's Addition in early 2023. The community features a pool and close proximity to shopping, dining, and more. Join our VIP list today.
Woolridge Landing: Our new single-family, 55+ community is coming in early 2023 to Chesterfield. This community features first-floor living floor plans, resort-style amenities, and a prime location near the Swift Creek Reservoir. Join our VIP list today to learn more.
Chickahominy Falls: This beloved 55+ Goochland community is opening a new section, The Burroughs, which live like Single-Family homes in Greater Richmond's only agri-hood. Stay tuned for more details.
The Edge at Westchester Commons: Lots of communities claim to have the most convenient location, but our Chesterfield luxury townhomes are truly in the middle of it all. Keep posted for our VIP list, which is coming soon.
The Reserve at Springdale Park: This new community of two- and three-story townhomes features an ideal location near shopping, dining, highways, and more. Keep an eye out for our VIP list!
So, from our family to yours, thank you for all that you do to make this community such an amazing place to live and work. And here's to a 2023 that Lives Up in every way.
Live Up,
Richard Kuhn, President of StyleCraft Homes