6 Reasons to Move to Scott's Addition in Richmond, Virginia
August 2, 2022
When you purchase a new home, you're buying more than the house itself, you're also shopping for the right neighborhood. Richmond has no shortage of hot spots, but one of the most sought-after and fast-growing neighborhoods in the area is Scott's Addition. Richmond, Virginia as a whole is popular with homebuyers for the history, the densely packed craft brewery scene, and the widespread appreciation of the arts, food, and outdoors. Scott's Addition is a microcosm of the surrounding city, delivering residents the best of Richmond in an incredibly walkable 20-square-block neighborhood. See what homebuyers love about Living Up in Scott's Addition.
Scott's Addition — Past & Present
Scott's Addition has always been bustling but has evolved over time. Originally the area was a busy industrial district. When the neighborhood was designated a historic district in 2005, it set the scene for a renaissance. Renewed energy poured into the area and hasn't slowed down, with new attractions regularly coming on the scene. With a whopping 13 breweries, cideries, meaderies, and distilleries, there's a new spot to wet your whistle every day of the week. Plus, the area is home to nationally recognized restaurants, rooftop bars, unique entertainment destinations, and more.
Benefit #1: Convenient Commute
Scott's Addition is becoming so popular that many businesses have opened offices in the neighborhood. Talk about an easy commute! If you happen to live and work in the same neighborhood, it doesn't get more convenient than that. But if you don't get quite that lucky, you're still in good shape in terms of your commute. The neighborhood has easy access to Interstates 64, 95, 195, and the Powhite Parkway. Residents of Scott's Addition can easily drive to other parts of the City of Richmond and surrounding counties, whether that's for work or for play.
Benefit #2: Steeped in History
You don't have to look much further than the name of this neighborhood to see the history coursing through it. The "Scott" of Scott's Addition refers to Major General Winfield Scott, a historic military figure who fought in the War of 1812 and the Mexican-American War. He originally received the area as a wedding dowry. The "Addition" of Scott's Addition refers to the area being annexed by the City of Richmond early in the 1900s. At that time, people were drawn to the neighborhood because it was a hub of transportation — served by streetcars, the railroad, and highways. It's no wonder that it was also filled with industrial complexes and manufacturing facilities. While the area has come a long way in the last century, some threads stay constant. Scott's Addition is still centrally located and booming. Today, you'll find a variety of local businesses including breweries, architectural firms, creative marketing companies, food shops, and artists and makers.
Benefit #3: A Dream for Foodies
If all goes according to plan, there are multiple meals to be had each day. That's a truly delicious endeavor for residents of Scott's Addition. You've got options. And not just options. A truly tasty and award-winning variety that might tempt you to forgo your kitchen and groceries in favor of eating out. Pizza, barbeque, milkshakes, sushi… you name it, it's probably within walking distance for Scott's Addition residents. There are plenty of spots to sample, but if you need a place to start, here are a few of our favorites. Tazza Kitchen is a Richmond staple, with multiple locations, including one in Scott's Addition serving up wood-fired pizzas and a well-rounded variety to keep you coming back for more. The Fat Dragon is popular and well-known for its creative and accessible Cantonese food, with flavor inspirations from multiple Chinese regions. If you're craving barbeque, you'll find it at ZZQ Texas Craft Barbeque which blends Central Texan tradition and technique with Central Virginian influences to bring Richmonders a mouth-watering spread of barbequed meats. And if you want a grab-and-go meal or the ingredients to whip something up at home, Stella's Grocery provides locals with gourmet Greek products, food, and baked goods.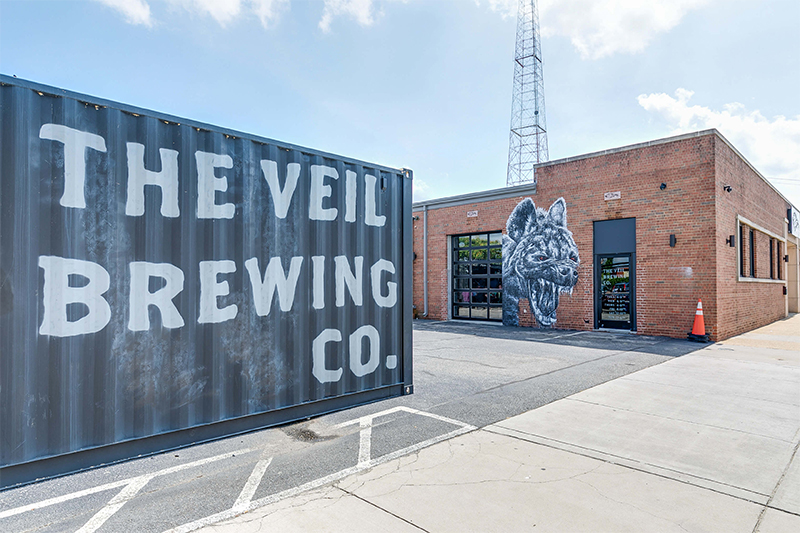 Benefit #4: A Hub for Local Breweries
Some small cities might have a brewery or two to choose between, but Richmond has more than its fair share. And in Scott's Addition, there are more than a dozen spots to sip locally crafted brews and spirits. Hardywood Park Craft Brewery converted a vacant warehouse into a 20-barrel brewhouse and taproom and is now a household name in Richmond. They round out their offerings with a pizza menu and live music. You can easily become a regular when you become a homeowner at The Outpost at Brewers Row directly across the street. When you're ready to try something new, head to Ardent — another beloved taproom with a beer garden. The outdoor area is open year-round, making it a great spot to meet up with friends, or kick back and relax with your dog. Their beer selections include a honey ginger herbed beer, atlantico lager, and Ardent IPA just to name a few. If variety keeps you interested, you'll also love Main Line Brewery — they regularly change their craft beer and seltzer selection. They're equally conscientious to curate a calendar of live entertainment with indoor and outdoor seating.
Benefit #5: A Booming Social Scene
Are you a social butterfly? Scott's Addition always has somewhere to go or something to do, so you can kiss boredom goodbye! Sports Center of Richmond (SCOR) is home to Peak Experiences rock climbing for the adventure seeker and has indoor soccer games if you've been wanting to join a group sport. Like enjoying your beer with a side of competition? There are a variety of bars that bring fun and games to the Scott's Addition bar scene. Enjoy games of yesteryear at The Circuit, where you'll find Ms. Pacman, Frogger, and pinball along with plenty of other throwbacks. Or, try your hand at shuffleboard which is the core of Tang & Biscuit. Would you rather sit back and vibe will you imbibe? Many breweries, and Brambly Park Winery, host live music and touring musicians frequent The Broadberry nearby.
Benefit #6: It's All Within Walking Distance
It's clear that there's no shortage of fun to be had in Scott's Addition. But if you're coming to Scott's Addition from another part of town, you have to factor parking into the equation when you visit. That's not the case for Scott's Addition homeowners! This neighborhood is walkable! If you live in one of StyleCraft's communities, you can leave your car comfortably parked in your attached 1-car garage, and head to any of the above attractions by foot. There are plenty of sidewalks which make strolling to dinner or walking your dog a breeze.
To sum it up by the numbers, within 1 mile of our Greater Scott's Addition community, The Outpost at Brewers Row, you'll find:
12 cideries, distilleries, and breweries
8 night & weekend experiences
4 grocery stores & specialty markets
4 museums
70+ restaurants
Does Scott's Addition sound like your dream neighborhood? We've got good news. We're building two new communities in two different areas of Scott's Addition. These high-end 2-story condos provide a rare opportunity to own a home in this part of town. Plus, the communities both come with additional amenities that make Living Up in Scott's Addition even more appealing. Interested in learning more about our new Scott's Addition condos? Check out The Outpost at Brewers Row and Mason Yards.

Have questions? Reach out to us via live chat or fill out our contact form - we've got answers!