Live Up, Connect, Thrive: How Open Floor Plans Enhance Your Home and Life
November 3, 2023
Open, bright, and perfect for entertaining—no wonder open floor plans are such a favorite among homebuyers! Open floor plans are a type of architectural design that maximizes open spaces with fewer separations between each major room. Combining the traditional design of a well-built home with the modern touch of open-concept living, open floor plans have several benefits, including:
Improving traffic flow, thanks to fewer dividers between each room
Increasing light throughout your home, thanks to fewer partitions and opportunities for natural light
Encouraging the flow of communication throughout the home
A dream for entertaining — ensuring you aren't cut off from your guests while in the kitchen, while they are in the family room
Let's explore the most popular reasons StyleCraft homebuyers love our open-concept living floor plans, offered in each of our communities.
Reason #1: Enhanced Social Interaction and Connectivity
Open floor plans create a sense of togetherness by allowing friends and family members to feel included in activities and conversations without feeling physically crowded. Having an open layout has a lot of advantages. It makes it easier for sound to travel, provides greater visibility, and increases a sense of togetherness, whether you're spending time with family, entertaining guests, or keeping an eye on your children or pets. With this floor plan, you can easily keep an eye on what's happening in your living areas without being blocked by walls or closed doors.
Reason #2: Increased Natural Light and Visual Spaciousness
Open floor plans have many benefits that can make a home feel more welcoming and spacious. They allow natural light to flow freely through a larger space, making rooms feel brighter and more open. Unobstructed views from windows and glass doors create clear sight lines, which can help to connect indoor and outdoor spaces seamlessly. With an open floor plan, even small rooms can appear larger and more airy. Overall, an open floor plan is an excellent option for anyone looking to create a more spacious and inviting living environment.
Reason #3: Flexible Use of Space and Versatile Design
Open floor plans offer versatile space that can be used for multiple purposes like a family room, recreation room, home office, or entertainment space, depending on your needs. When there's a flow between rooms, you have more space to add your personal touch to your new home. You can start by using furniture to demarcate different areas within the open spaces of your home. For instance, the spacious area between the kitchen and family room in many StyleCraft floor plans can be used as a café, and you can choose from different types of tables, including circular, standard dining, or breakfast nook tables. Having adaptable spaces allows you to use your home in a way that best suits you, from the furniture selections to the overall use of a particular room. That's where our Flex Rooms come into play — learn all about them here.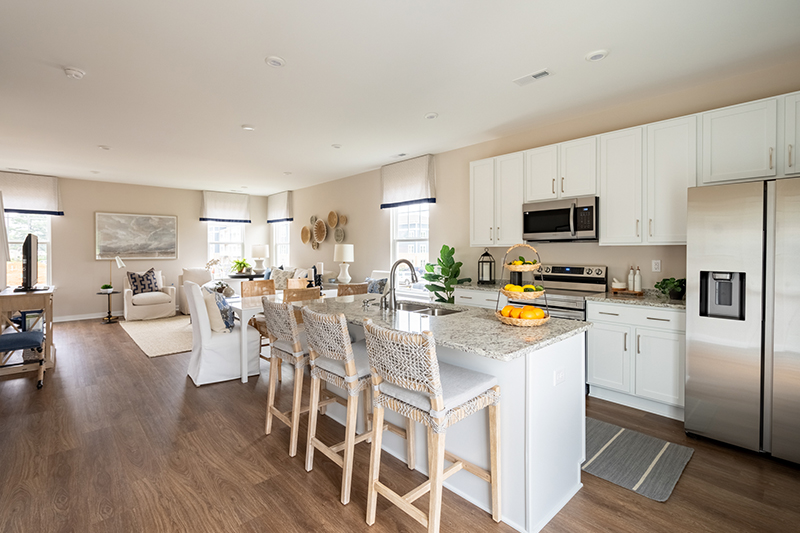 Reason #4: Improved Traffic Flow and Accessibility
Open-concept floor plans are a great option for households with multiple people and busy schedules. With fewer doors and dividers, there's plenty of space for everyone to move around and prepare for the day. Additionally, open floor plans can be especially useful for those with mobility issues, as they allow for easy accessibility throughout all rooms. By adding a main-level Owner's Suite — like we have in our 55+ communities — the floor plan can seamlessly flow, providing maximum comfort and convenience.
Reason #5: Enhanced Entertaining and Hosting Experience
Gone are the days of trying to fit all your guests in a cramped kitchen while trying to host and engage in conversations. With an open floor plan, you and your guests can effortlessly move around and mingle between different areas, including the kitchen, living room, and dining area. The best part is that you don't have to pause your conversations while you grab drinks or prepare the appetizers. You and your guests can interact seamlessly while cooking or mixing drinks so that no conversation has to be cut short. By strategically placing seating, you can maximize uninterrupted socializing in any area of the open floor plan, making for a memorable and enjoyable gathering.
Reason #6: Integration of Indoor and Outdoor Living
An open floor plan can take the outdoor living areas to a whole new level. With a seamless flow from the family room or kitchen, your outdoor living area can become an additional space for entertaining your family and guests. This elevates your home's overall entertainment options and provides a unique experience of indoor-outdoor living.
Reason #7: Resale Value & Market Appeal
There has been a lot of talk about whether open floor plans will continue to be popular since COVID. The good news is that they are here to stay and have become even more popular as homes need to be adaptable to different lifestyles. With an open floor plan, you can have a room that serves as an office, a space for entertaining, or a playroom, depending on your needs. Having an open floor plan can also increase the resale value of your home, making it attractive to various types of homebuyers, such as first-time buyers, growing families, and active adults. In the Richmond market, open floor plans are especially sought-after, which means that your home will hold its value in the long run.
When talking with all of our homebuyers, the keywords that often come up when describing the home they are looking for are convenience, comfort, and flexibility—the epitome of open-floor plans. Ready to start exploring our open floor plans, and the communities where you can find them? Begin exploring here.