What Is a Flex Room and What to Do With It?
August 22, 2022
Flex Rooms have earned their spot on many StyleCraft floor plans over the years and they're always a popular feature with homebuyers. That's because no two homebuyers are alike, and Flex Rooms give homeowners the flexibility to personalize extra space to accommodate their needs and the way they Live Up. If you've been perusing our floor plans and wondered: "What is a Flex Room?" or even "What to do with a Flex Room?" — keep reading for some of our favorite Flex Room ideas.
What is a Flex Room?
"Flex Room" is the term we use to describe a room without a predetermined purpose, as opposed to a room like a bathroom or kitchen that has appliances and fixtures for a clear use. You might see it on a StyleCraft floor plan labeled as "flex" or "bonus," and they're often strategically located on floor plans to increase their versatility. The "flex" in Flex Room is short for flexible because they're designed to be exactly that. The room could fill one need today and be repurposed to accommodate a lifestyle change a decade from now.
What to do with a Flex Room?
The short answer is: anything you want! What is a Flex Room if not a room to make your own! But if you're overwhelmed by limitless possibilities and don't know where to start in terms of Flex Room ideas or what to do with a Flex Room, we can help get your creative juices flowing. First, check out the Flex Room's location with respect to other rooms. Upstairs? Downstairs? Is it best suited for a quiet workspace? More centrally located for welcoming guests?
After you've given consideration to the Flex Room and its relative location to the rest of your home, answering what to do with a Flex Room is entirely up to you. We recommend giving some thought to how you want to Live Up. Do your sewing supplies get unceremoniously shoved in the back of a closet? Maybe a craft or hobby room is in order. If you've stepped on more Legos than you care to count, turn that Flex Room into a playroom for the kids. Training for an athletic event? A home gym could be a huge time saver. Flex Room ideas are only really limited by your imagination, but we've put together a list of answers to "What to do with a Flex Room?" as a helpful starting off point.
Flex Room Idea #1: Home Office
If the pandemic had you packing up your corporate office in favor of rigging a makeshift desk out of your dining room table, we bet you spent at least a couple of Zoom calls wishing for a dedicated office space. With more of us working remotely than in days past, turning a Flex Room into an office space is one of the more popular Flex Room ideas. All you need is a desk, an ergonomic desk chair, and a set of French doors that can close off the space when you need to focus or take a call.
Flex Room Idea #2: Playroom
Don't get us wrong, kids are great. But they're also a bona fide mess. And with each birthday and holiday they accumulate more brightly colored and noisy toys, and many parents long for a place to contain the mayhem. In fact, for many parents, what to do with a Flex Room isn't even a question because a playroom is the obvious answer. Either use a toy chest or invest in built-in storage and be prepared to sing the praises of your Flex Room the next time company comes over. Simply shut the door to the Flex-Room-turned-playroom to easily hide the mess.
Flex Room Idea #3: Hobby Room
What is a Flex Room for if not to dedicate to your passion project or hobby? Love spending your time off adorned with a headset playing video games? Enjoy carefully assembling model airplanes? Need a spot to create intricate quilts? Whatever it is you love to do, we're sure that you'd love a dedicated space for it. Moving your hobby or collectibles to a Flex Room helps eliminate clutter in other areas of the house and keeps all your favorite things easy to enjoy in one spot. And because a Flex Room is typically set apart from the main living areas, you don't have to clean up the space every time you take a break from the fun.
Flex Room Idea #4: Reading Room
Honestly, we all spend too much time in front of a screen. As you mull over Flex Room ideas, consider turning your Flex Room into a quiet space to read, reflect, and write — sans television. Incorporate a couple of cozy armchairs, a bookshelf, and a vintage rug to turn your Flex Room into a mini library or reading room. You can even set up a writing desk in case the inspiration to pen the next great American novel strikes while you reflect.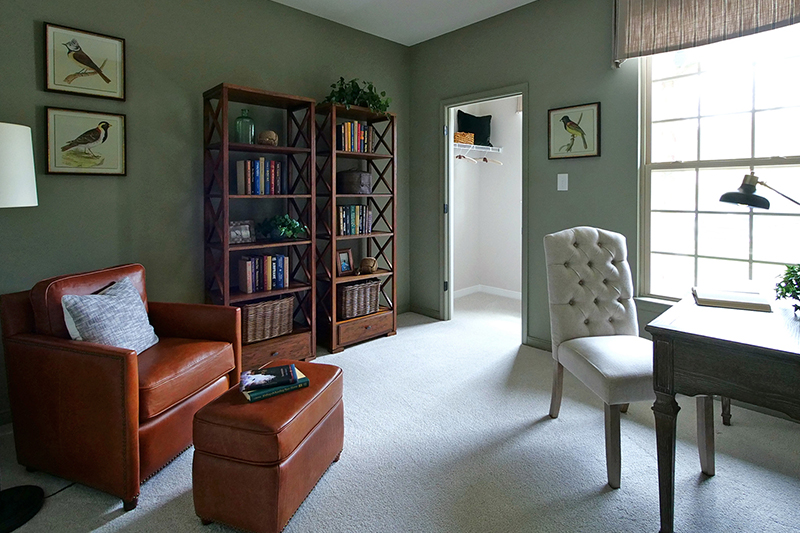 Flex Room Idea #5: Exercise Room
If you're not sure what to do with a Flex Room, consider cancelling your gym membership in favor of breaking a sweat from home. Whether you prefer to take a spin on your Peloton bike each evening or start your morning with a series of sun salutations, turning your Flex Room into a home gym could make great use of the space. Invest in a cardio machine, add mats on the floor, and hang a mirror to perfect your form and you'll be on the way to buff city before you know it.
Flex Room Idea #6: Additional Living Space
If you enjoy hosting dinner parties or gatherings, "What is a Flex Room?" can be answered as: extra space for your guests! Create a secondary sitting room or living area so that guests can comfortably mingle and socialize next time you have company. Having additional living spaces is also helpful for when you have overnight guests or if you have a multigenerational household. Grandparents can peacefully sip on coffee and read the paper in once living space while the kids watch back-to-back cartoons in the other.
Flex Room Idea #7: Guest Bedroom
Speaking of overnight guests, Flex Rooms can eliminate the need for a pull-out sofa or air mattress by creating a dedicated space to ensure that your guests are comfortable. Most StyleCraft floor plans allow for Flex Rooms to easily be converted into a private secondary bedroom. Careful with this Flex Room idea though. Be sure to stop short of leaving a mint on the guest room pillows or else your guests might never want to leave!
Check out all of the StyleCraft floor plans, and if you select one with a Flex Room, be sure to reference this list of Flex Room ideas so that you know exactly what to do with a Flex Room when the time comes.

Learn more about our communities and where you can find homes with flex rooms by contacting our team.