Benefits of 3D House Tours for Homebuyers
October 22, 2022
They say that a picture is worth a thousand words. If that's the case, then a 3D house tour is worth at least a million words (And we're talking big words, like "nouveau-colonial.") Yes, 3D home tours are one of the most modern ways for homebuyers to try a house on for size. And while 3D walkthrough homes don't let you knock on the doors or kick back by the kitchen island, they do offer a host of benefits that are far superior to more traditional photo tours.
Here are just some of the reasons why a virtual house tour is box you should be sure to check when finding your next home:
3D HOME TOURS ARE OPEN 24/7
Are you a night owl or an early bird? Or is your schedule just a scattershot mess of unpredictability? Any of these scenarios works with a virtual home tour. That's because our 3D walk-through homes are ready whenever you're ready for a virtual house tour — wherever you are. Even better, you can "bookmark" your favorite virtual walk-through and revisit it anytime you wish. So, if you wake up from a nightmare about substandard closet space, simply revisit your favorite Model Home online and rest assured it will fit all your stuff — and then some.
YOU HAVE QUESTIONS, 3D HOME TOURS HAVE ANSWERS
It's time to let go of that Magic 8-Ball when making important homebuying decisions. A virtual home tour can provide timely, accurate answers to interior design quandaries of all types. Plus, they're much more user-friendly than interpreting your typical new-construction blueprints. And while our 3D home tours are designed to be intuitive for both new and savvy homebuyers, we're also there to help you navigate through floor plans and help you understand how your vision of the ideal home will come to life.
A 3D HOUSE TOURS WORKS WITH YOUR TIMELINE
Because you can take a virtual house tour whenever and as often as you'd like, they allow you to work at a comfortable pace through the homebuying process (that is, if the community you have your eye on isn't selling out). Never feel rushed — even if you want to spend a couple hours in a virtual kitchen determining the picture-perfect backsplash.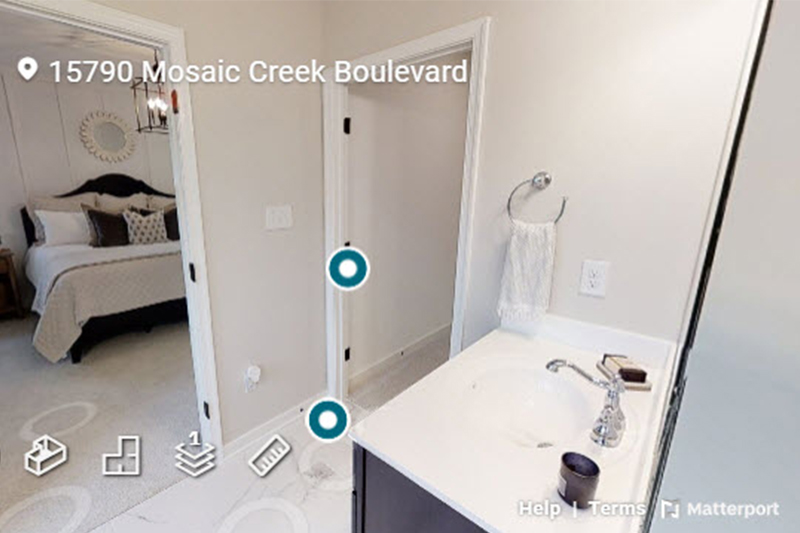 A VIRTUAL HOME TOUR HELPS YOU EXPLORE SPACES WITH CONFIDENCE
Sure, a virtual home tour can get you acquainted with a StyleCraft Model Home. But there's a next-level benefit, too: the actual planning and staging of your potential new home. Will you have enough space to move your well-curated kids' artwork exhibit into the interior hallways? Does that Flex Room work best as a home office or as an extra bedroom for those surprise visits from grand aunts and second cousins? And where should you place your 6-burner BBQ grill in your Outdoor Living Area so that you can flip burgers while enjoying the sunset? These are just some of the questions that 3D walkthrough homes can help you answer. Our Interactive Floor Plans even feature a Furniture Placement Tool so you can know with certainty whether those bunk beds can be unstacked and still allow enough room for matching dresser and desk.
IT'S OKAY TO FORGET! 
With traditional in-person home tours, it's easy to walk out the door — and immediately forget half of what you saw. With a virtual home tour, there's no pressure to have a photographic memory or take notes like you're going to be tested on the material later. With 3D home tours, you can revisit the virtual environment at any time whether you can't remember the placement of the windows or want to doublecheck the master bedroom square footage.
We've spent the past couple of hundred words talking up our 3D home tours — and for good reason. But we don't want to leave the impression that these are the only virtual resources that StyleCraft Homes offers homebuyers. These additional resources are only a click away:
Interactive Floor Plans: Visit our communities online to see our interactive floor plans, which provide an in-depth look with clickable structural options, measurement tools, furniture placement, and more.
Photo + Video Gallery: Allow you to see inside our homes, communities, and amenities so that you can get a feel for your new neighborhood from the start.
Self-Guided Tours: The preferred option if you want the in-person Model Home tour experience, but have a schedule that's tough to crack.