7 Must-Ask Questions When Choosing a Homebuilder
January 27, 2022
When it comes to building a new construction home, you'll have key decisions to make that will ensure you'll be Living Up in your ideal home. But before you finalize your floor plan or choose finishes, you have one big choice to make that informs the rest. In fact, it might be the most important decision you make during the whole process. You have to choose your homebuilder!
No two homebuilders are exactly alike, and you'll likely be overwhelmed with options if you head to Google and search "best Richmond homebuilder."
We recommend doing your homework by chatting with multiple homebuilders before you make your decision. We think you'll learn a lot about what it's like to build with a potential homebuilder, just by asking these seven essential questions.
1. WHO WILL BE MY POINT OF CONTACT?
You can't be on site the whole time your house is being built, so being kept in the loop throughout the process is crucial. We recommend asking who your point of contact is from contract signing, to closing, and even after you've been living in your new home for a while. Is it the same person? Is it a different person at every touch point? Is it going to be easy to get your questions answered?

Here at StyleCraft, we never leave you hanging. You'll start the process with your New Home Sales Consultant, and they'll be by your side as a guide. As your home moves through the stages of construction, you'll have additional points of contact. Any time your point person changes, we have official hand-off meetings to ensure a seamless transition. Plus, we have weekly phone calls with homebuyers from the time construction starts all the way up until closing day. These calls will provide you the most up-to-date information on your home and serve as an opportunity for you to ask any questions that you might have.  
2. ARE THERE OPTIONS IN YOUR FLOOR PLANS?
A floor plan can be perfectly designed, and still not be the perfect fit for every homebuyer. Different homebuilders have different policies when it comes to the flexibility of their floor plans. You should ask if the standard floor plans must be built exactly as is, or if there are any options you can choose from to make the plan best fit your lifestyle. That bonus room, could it be made into a bedroom? Or the porch, could it be a three-season room?  

At StyleCraft, we know that each homebuyer is unique. We've used feedback from previous homebuyers to build flexibility right into our floor plans. Each floor plan has optional features you can select to make it fit your family like a glove. Explore these options on our website using our Interactive Floor Plan feature to see how small changes or upgrades can elevate a great floor plan, to the ideal plan for you.
3. CAN YOU PROVIDE REFERENCES FROM PREVIOUS HOMEBUYERS?
You shouldn't just take a builder's word for it when it comes to what it is like to build with them. From our experience, no one knows the ins and outs of working with a homebuilder quite like the homebuyers who have built with them in the past. Asking for references or testimonies from homebuyers and reading reviews from people who have experienced the process firsthand will give you a much more accurate view of what to expect.

We know how important this information is for prospective buyers, so we go a step further to talk with our homebuyers — interviewing them and documenting their feedback. In fact, we've created an entire page on our website dedicated to Homeowner Testimonials to help you see what building with us is really like.
4. ARE THERE HOMEOWNERS ASSOCIATION (HOA) FEES?
If you're moving into a neighborhood with a Homeowner's Association, you'll be agreeing to the terms of the HOA from the time you move in. It's important to know an HOA's rules and any associated costs before you commit to moving there. You'll want to make sure you leave room in your budget for any fees and make sure you can abide by any other requirements they might have.

All StyleCraft communities have a HOA, and while the fees vary by community, we can let you know from the very beginning what they are. Our homebuyers appreciate the HOAs in their neighborhoods because it ensures consistent curb appeal throughout the community. A HOA also helps a neighborhood run smoothly and serves as the foundation for a close-knit community.
5. DO YOU OFFER A HOME WARRANTY?
In an ideal world, a new construction home wouldn't require repairs for a long while. But in reality, that's not always the case. It's important to understand what the protocol is, should there be an issue with your new home after you close on it. Are you on your own? Does your builder offer a warranty? What's covered in the warranty and who makes the repairs?

At StyleCraft, we build quality into our homes from the ground up. We're so sure of it that we warranty nearly everything in. We have one of the best warranty programs you'll find, and we stand by our homeowners long after they've moved into their home. When you call our team with an issue, we'll send someone from our In-House Warranty Team to assess the repair. Because they're in-house (rather than a third party like many other homebuilders lean on) they'll already be familiar with your home and its features. From there, we'll work with our trusted Trade Partners to make the repair. In other words, we offer a whole lot of peace of mind for our homebuyers.  
6. WHICH FEATURES ARE INCLUDED, AND WHICH ARE UPGRADES?
It can be easy to see design options or walk through a model home and fall in love with features that are not included in the base price of your home. We recommend asking for a print out of what design options, finishes, appliance packages, landscaping, and smart accessories are already included in the price of your home. If you do this with multiple builders, you can compare them side by side.

Your New Homes Sales Consultant at StyleCraft will be transparent with you about pricing from day one. You'll know what features are included with the base price, and how choosing alternatives would impact the bottom line. We're also adept at helping Expressions & Freestyle homebuyers navigate our Design Studio and the building process so that they stay comfortably within their budget.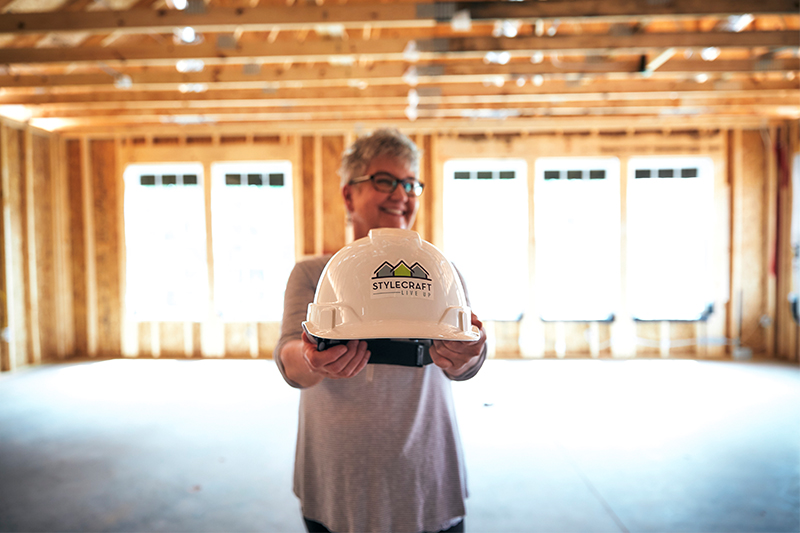 7. WHAT MAKES ONE HOMEBUILDER DIFFERENT FROM OTHERS?
Richmond is a relatively small city, and most homebuilders in our area are well aware of each other. Most of us know what other homebuilders bring to the table and we have an idea of how we stack up in comparison. Try asking any potential builder why you should choose to build with them. What features do they offer that other builders don't?

We welcome this question, because we've been building homes for over 20 years and we're always working to improve for our homebuyers. In fact, we put together a blog post on what sets us apart, give it a read!
We think these seven questions will help you narrow down your preferred homebuilder. In fact, just seeing how receptive a potential builder is to these questions can give you a sneak peek at how they might handle the multitude of questions you'll likely have throughout the building process.