The Advantages of Quick Move-In Homes for Relocating Buyers
September 28, 2023
There are several challenges that relocating homebuyers face before making the big move — how will you acclimate to the new area, will you find the right school district, and most importantly: where will you live?
Relocating doesn't have to feel this daunting… and it certainly doesn't mean you have to be thrown into the incredibly tough resale market, or wait for a home to be built during the typical new construction turnaround. What if there's an option that gives you the convenience of being move-in ready and the luxurious new construction feel? Take a look at all of the benefits Quick Move-In Homes have to offer:
Benefits of Quick Move-In Homes
Quick Move-In Homes provide homebuyers with all of the benefits of a new construction home, without the new construction wait. These homes feature our most popular design and structural options and are situated on ideal homesites in desirable communities.

Most importantly for relocation homebuyers: Quick Move-In Homes offer the benefits of time, convenience, and a smooth relocation transition process.
Benefit #1: Time Saving Advantage
Typically, a new construction home can take anywhere from 6-10 months. But when you opt for a quick move-in ready home, you could be calling it "home" in as little as 30 days.

The best part? There's likely a Quick Move-In Home available in any StyleCraft Home community. Check with our team to see which of our communities has a Quick Move-In Home that's nearing completion to align with your timeline.
Benefit #2: Convenience & Reduced Stress
Quick Move-In Homes alleviate the stress of coordinating construction and move-in timelines. Stylecraft is already known for our seamless, streamlined homebuying process by keeping you in the loop as much or as little as you'd like. So, with Quick Move-In Homes, we take the extra step of handling all of the construction timelines prior to you securing your new home. That way, all you need to worry about is signing the dotted line and packing up your bags! And if you're ever in the neighborhood before you move, drop by for a tour with our New Home Sales Consultant — no matter what phase of construction it's in. After all, there's nothing like the magic of seeing your future home come to life before your eyes, not just in the blueprints.
Benefit #3: Easy Transition
The last thing you want to worry about when moving to a new city is waiting for your home to be completed. Quick Move-In Homes help ease the transition of relocating. Upon your arrival, you can expect a full functioning home so all you have to do is unpack.
Benefit #4: Streamlining the Relocation Process
As exciting as moving to a new city is, we know it can be just as stressful. Why can't moving be as simple as signing some paperwork, packing up your stuff, setting up your new home, and starting fresh in your new city? Well, it can be! Quick Move-In Homes ease common home buying worries of low inventory, decision making, and over-complicated financial processes.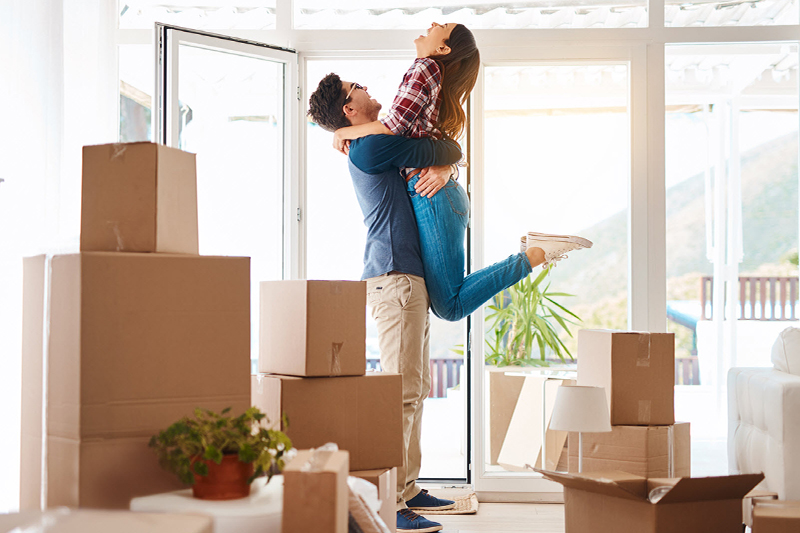 Benefit #5: Available Inventory
If you've kept your eye on the market recently, you know that low inventory is a common theme across the whole country. New construction homes and communities help close that gap of supply and demand — and Quick Move-In Homes help close it even quicker. Why? Quick Move-In Homes allow you to avoid the hassle of bidding wars, touring homes that may require expensive renovations, or multiple offer scenarios that accompany resales.
Benefit #6: Reduced Decision-Making Burden
New construction homes inevitably come with the need for quick decisions that need to be made:
Structural Options
Design Styles
Homesites
It all sounds exciting, but it can be overwhelming — especially if you're not sure what it all means. With Quick Move-In Homes, we take that burden off of you and leave it to the experts. Our team knows homes, buyers, and communities — inside and out. We focus on selecting the most popular and functional design and structural options for Quick Move-In Homes, leaving you with less decisions and a new home that Lives Up beyond expectations.
Benefit #6: Simplified Financing and Closing Process
A smooth closing process is every homebuyer's dream. Quick Move-In Homes help make that dream become reality. Your time under contract may be cut in half (or more), which means less time talking with your lender and working through finances, and more time making new memories in your new home.
Quick Move-In Studies
While we know it's helpful to hear this from experts, we also know how valuable it is to hear the experience of homebuyers, like you. Meet Judy! Judy had 30 days to relocate from out of state to Richmond, VA. She visited our Ivy Quick Move-In Home in our Greenwich Walk Townhome community, took a tour with our New Home Sales Consultant, and signed on the dotted line for her new home that very day. Hear her full story HERE.
Your New Quick Move-In Home
Relocating is stressful enough — so why add more stress to the homebuying process? The benefits of Quick Move-In Homes are endless: time-saver, the convenience of a move-in ready home and the appeal of new construction without the wait, and beautifully located homesites in desirable communities. All of these benefits make it so much easier to become more acclimated with your new neighborhood and give you the confidence to take on your new city. Talk to our team if Quick Move-In Homes feel like the right move for you. Your new house could be ready to welcome you home.