9 Way to Live Up in Richmond, VA This Summer
June 30, 2022
The days are long. The temperatures are high. School is out. And that can only mean one thing… it's summer in Richmond yet again! There are plenty of opportunities to enjoy summer throughout the city of Richmond, VA — family-friendly events, adult-centered fun, indoor and outdoor activities — there's something for everyone. If you want to make the most of this summer, we put together a summer bucket-list to help!
FILL SUMMER WITH FESTIVALS
Is it really summer if there isn't a festival or two on your calendar? Dominion Energy Riverrock kicks off festival season in Richmond each May, but there are additional festivals scattered throughout the summer to look forward to. Locals know that Hanover tomatoes are prized each summer, and there's a whole festival dedicated to them in July. There is also the Carytown Watermelon Festival in August that has music, vendors, food, and of course — boat loads of watermelon!  Or, if you're more of a book worm, connect with fellow literature enthusiasts at the Richmond Shakespeare Festival in August.
GET ARTSY AT FIRST FRIDAYS
Richmond's art scene is thriving, and on the first Friday of every month the Richmond Art's District invites visitors to stroll along Broad Street to visit local businesses, art galleries, shops, and restaurants. The self-guided art walk showcases local artists, live music, and art exhibitions. It's a great way to support the local art scene and even purchase a piece to display at home.
PACK THE PERFECT PICNIC
There's something about packing a picnic basket and meeting a friend for lunch al fresco. In Richmond, you can do that easily, and dine with a view while you're at it. Pack lunch from home, order a boxed lunch from one of Richmond's restaurants, or pick up prepared food from Scott's Addition favorite — Stella's Grocery. Once you've got the grub, you just have to find the right spot, and there are plenty of outlooks to aim for. Enjoy views of the Richmond City Skyline from Jefferson Park, admire the scene that gave Richmond its name at Libby Hill Park, or look out over the James River from Oregon Hill Overlook.
EMBRACE THE JAMES
If you've driven around the City of Richmond, you've probably crossed over the James River rushing below. For locals, it can be easy to take the river's proximity for granted, but Richmond is the only city in the U.S. that has Class IV rapids running through the city itself. Local businesses RVA Paddlesports and Riverside Outfitters will take you and a group of friends on a guided rafting trip so that you can enjoy the thrill of the rapids. Prefer a laid-back river day? You can also float a calmer section of the river on innertubes or bask on the rocks at Pony Pasture.
CATCH A SQUIRRELS GAME
You can root for the home team at Richmond's baseball stadium, The Diamond, home to our minor league team the Richmond Flying Squirrels. Flag down a bag of peanuts, savor the sweet sticky goodness of cotton candy, or enjoy a classic ballpark frank while you watch the game. Pro tip: check out their season calendar to see which nights coincide with fireworks displays, because we should all enjoy fireworks more than just on the Fourth of July! Huge baseball fan? We have two new communities within walking distance to the Diamond, perfect for those that love getting season passes! Check out The Outpost at Brewers Row and Mason Yards for more information.
COOL DOWN WITH A POPSICLE
You could drink a cold glass of water, or jump in the James River, but does anything truly cool you down better than a popsicle? And no, we're not talking about those red, white, and blue classics that you used to get off the ice-cream truck. We're talking gourmet popsicles, made locally here in RVA. King of Pops is indeed popsicle royalty and has developed a loyal fanbase throughout the city. Their home base is their popsicle patio in Scott's Addition, but you can find their portable popsicle carts parked around town, at festivals, and at farmer's markets. You don't have to choose between just a couple of boring single note flavors either, current flavors in the rotation include blackberry ginger lemonade, coconut chocolate sea salt, and Thai iced tea.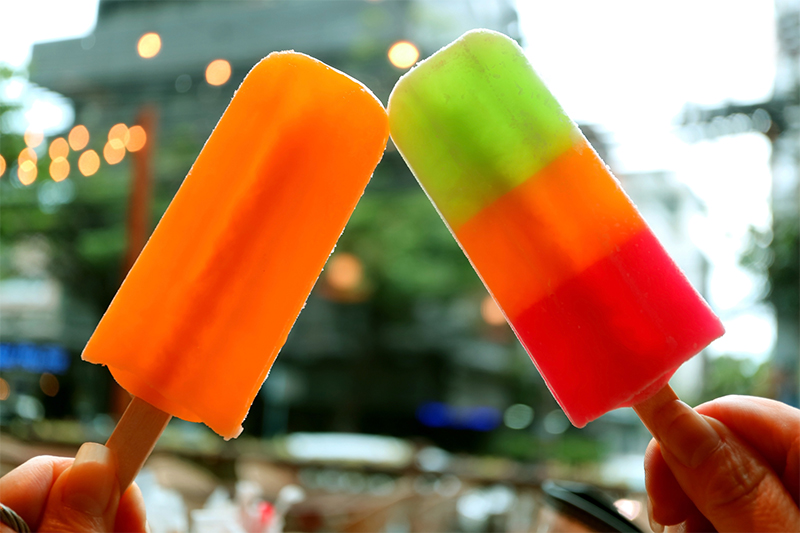 SAMPLE THE BREWERY SCENE
If there's one thing Richmond has plenty of? It's breweries. In fact, you can visit a new brewery, every weekend, all summer long, and not visit the same one twice! Most of the local breweries are dog-friendly, so you can bring along your canine companion, catch up with friends, and enjoy an ice-cold local brew. Many breweries host live music and food trucks too, just check their schedules to find out the best day to visit. In Scott's Addition, try out Main Line, Ardent, or Hardywood, the latter of which is directly across from our community The Outpost at Brewers Row.
ESCAPE THE HEAT AT MUSEUMS
Sure, you often think of being outside to embrace summer fun, but sometimes it's just too darn hot and you're hankering for an air-conditioned activity. That's where museums come in. Head to the VMFA to see the latest art exhibit, the Science Museum of Virginia to be wowed by an astronomy presentation, or the Virginia Museum of History & Culture to see historical artifacts up close. If you've got busy kids at home, opt for The Children's Museum of Richmond to keep them entertained and learning while school is out.
SHOP LOCAL AT THE FARMER'S MARKET
Farmer's markets are open nearly year-round in the Richmond area, but they're really something special in the summer. That's because the local growing season is in full swing and you'll find tomatoes, melons, peaches, peppers, flowers, honey, dog treats and more. Richmond is home to Virginia's largest farmer's market — The South of the James Market, which is worth visiting at least once! But fortunately, there are several recurring markets around Greater Richmond, so there should be one within an easy drive, no matter which part of town you live in.
We look forward to summer in Richmond all year long, and we'll be working our way through this list this season! Wish you could spend summers in Richmond? We can make that happen — check out our communities throughout Greater Richmond here.